Have you been to Bangkok? Discover the best places to visit in Bangkok. Bangkok is filled with rich culture, amazing food, stunning architecture, and beautiful palaces and temples. It's a very affordable and cheap place to visit, perfect for all types of travellers. Here are some tips of what to do in Bangkok to make the most of your visit on where to go, what to eat, and where to stay!
Spend a day exploring the Temples and Palaces
The Grand Palace, Wat Phra Kaew-Temple of the Emerald Buddha.
The Grand Palace has got to be one of the top places to visit in Bangkok. It was established by King Rama I in 1782 and has several sections within, including temples, government building, ceremonial area and amazing art.
We were amazed by the intricate golden detailing on the exterior of the palace. It was also filled with exquisite decor throughout. It is home to the Temple of the 66cm tall Emerald Buddha (officially known as Wat Phra Sri Rattana Satsadaram), carved from a block of jade. Note there is no photography inside.
Nearby: Wat Pho
Where: Na Phra Lan Road, Old City
Open: 9:00 am to 3:30 pm daily. Entrance fee is 500 Baht.(Rattanakosin)
Visit Wat Pho: Bangkok's Temple of The Reclining Buddha
South of the Grand Palace is Wat Pho, also known as the temple of the Reclining Buddha. It was built in 1782 during the reign of Rama I, the official name is Wat Phra Chetuphon Vimolmangklararm Rajwaramahaviharn. We visited in the morning to avoid the crowds and the heat. The area is surrounded by stunning architecture, so we spent some time wandering around the courtyard and murals. The highlight at Wat Pho is seeing the Reclining Buddha, the biggest in Thailand! We walked through the massive assembly hall to see the Reclining Buddha. It is 15 meters tall and 46 metres long, all covered in gold leaf. If you walk to the end, you'll see it's 5 meters long feet is decorated in laksana (Buddhist Sanskrit symbols & characters).

On one side of the room, we saw 108 bronze bowls along the wall. For a little good luck, you can purchase a bowl of coins and drop them in the bowls. The money goes towards preserving Wat Pho. The significance of the number 108 refers to the 108 positive actions and symbols that helped lead Buddha to perfection.

Note: Before entering you must remove your footwear, at the front, there are some plastic bags to carry your shoes in.
Nearby: The Grand Palace
Where: 2 Sanam Chai Rd, แขวงพระบรมมหาราชวัง Khet Phra Nakhon, Krung Thep Maha Nakhon 10200
Open: daily 8:00am – 5:00pm. Ticket Price 200 Baht

Explore Wat Arun, Temple of Dawn
On the bank of the Chao Phraya River is one of Bangkok's landmarks, Wat Arun, also known as the Temple of Dawn. Its amazing white colour, stunning architecture and delicate, intricate patterns make it so unique and one of my favourite temples to visit! Perfect for the instagram snaps 😉

We were so amazed by the Chinese porcelain mosaics that covered the temple from top to bottom. Wat Arun is made of a centre elongated prang (tower) that is 79 meters high and surrounded by smaller prangs. We walked up the very steep stairs of the centre prang to the two terraces. The various layers represent the different layers of the heavens. Every tier has a guardian, animal figures and statues of the Buddha through different stages of his life.

We had limited time on our visit, but we could've spent hours here exploring! If you visit Wat Arun, give yourself enough time to admire the architecture and its surrounding areas. It's opposite the river so there'll be fewer crowds but still try and go early in the morning.

Wat Arun is open daily 07.30 – 17.30. Admission is 100 Baht.
Where: 158 Thanon Wang Doem, Khwaeng Wat Arun, Khet Bangkok Yai, Krung Thep Maha Nakhon 10600
Visit the National Museum
To get a glimpse of Thai culture, visit the National Museum. There is an extensive collection of wooden carvings and chariot of the royals. A huge collection of artifacts for the history buffs out there.

Cruise down the Chao Phraya River
Flowing through Bangkok is the Chao Phraya River, also known as the 'River of the Kings'. It's one of the best ways to admire the beauty of the temples and palaces from a distance. You can enjoy a river cruise on one of the ferries or a long tail boat. We opted for the longtail boat to ride us across the river to get the Wat Arun, as well as having the opportunity to ride along the river. Longtail boat rides are actually quite convenient and such a unique experience.
Tip: What to wear when visiting the temple
When visiting temples, dress respectively. Be prepared and try to be mindful of what you wear. If you forget to wear something appropriate you can hire a local garment outside some of the temples.
There is a strict dress code when entering a temple. Remember to dress appropriately:
Wear long pants or skirts that are under the knee; no short skirts or shorts are allowed
Keep your shoulders covered; girls can bring a scarf and men can wear t-shirts. Though Thailand is quite warm, do not roll your sleeves up
No tight clothing: such as tights, tight skirt or dress
What to do and where to eat?
Check out the Chatuchak Weekend Market

Shop til you drop at Chatuchak, the world's largest weekend market! While in Bangkok, we made a visit to the market for food and shopping. The area is huge covering 27 acres with more than 15,000 vendors. While exploring the market, it feels like it will never end, and you'll find bargains for almost everything, selling food, clothes, plants, antiques and more.

Open every Saturday and Sunday 6 a.m. to 6 p.m.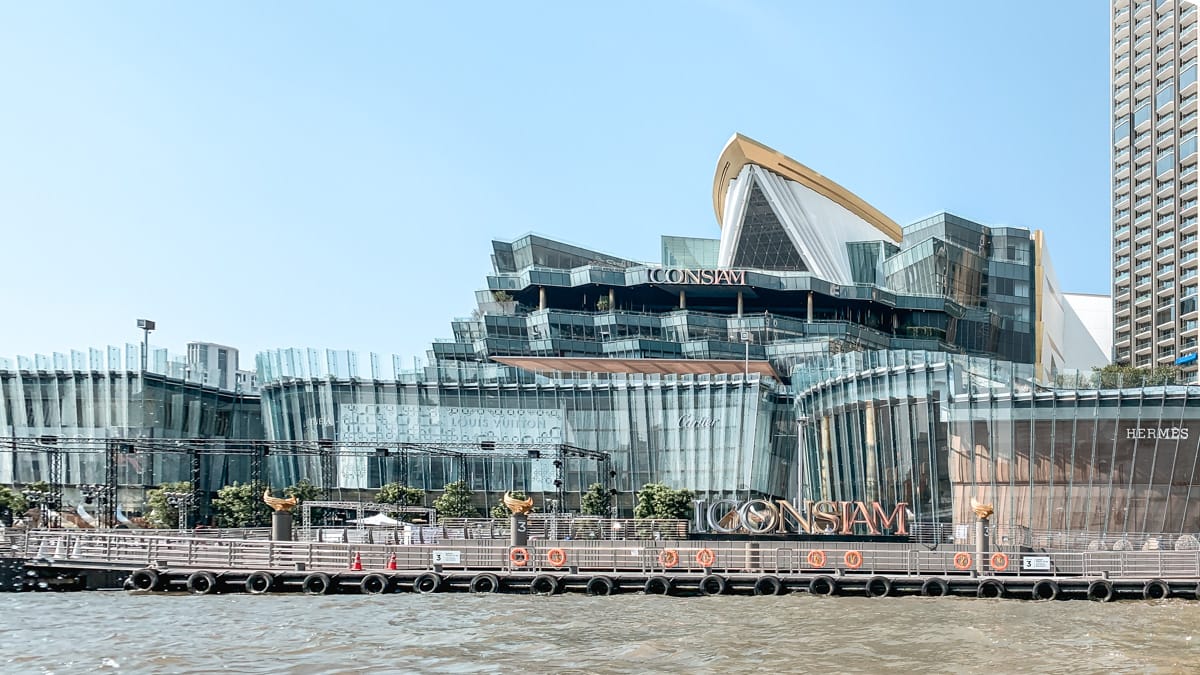 Shop til you drop at IconSiam
We visited IconSiam, dubbed the Mother of All Malls for more retail therapy. IconSiam is a relatively new shopping centre sitting on the riverside of Bangkok. It's no ordinary shopping centre, filled with a mix of casual and high-end brands, an indoor floating market, an art gallery, exhibition space and heaps more! You can also find the first official Apple store in Thailand, for all those apple fans.

Open: daily from 10am to 10pm
Where: 299 Soi Charoen Nakhon 5, Charoen Nakhon Road, Khlong Ton Sai, Khlong San, 10600, Bangkok, Thailan
Taste some Thai street food, Sook Saim
Within the new IconSiam, is an indoor floating market. A great option if you don't have time to visit the outdoor floating markets and you can enjoy the experience without the heat. On the ground level, we found a maze of food, art and culture from 77 provinces in Thailand. We saw countless shops and tried different types of traditional Thai snacks. The local food found here is delicious and quite reasonably priced. Definitely worth a visit if you only have a short time in Bangkok!

Open: daily from 10am to 10pm
Where: 299 Soi Charoen Nakhon 5, Charoen Nakhon Road, Khlong Ton Sai, Khlong San, 10600, Bangkok, Thailand

Dine at a Michelin Star Restaurant
You can always find good food in Bangkok, but among the large range of local foods, you can also enjoy a Michelin dining experience. We visited Paste (1 Michelin Star) by chef Bee Satongun. She was awarded Asia's Best Female Chef 2018 by Asia's 50 Best Restaurants!

It's one of the best Thai fine dining experiences I've had in Bangkok. She rediscovers the authentic flavours of classic Thai cuisine and brings old dishes with new twists. The dishes are inspired by family recipes dating back from 1870 to 1930. Each dish was so unique, modern yet traditional with heaps of flavour. We enjoyed the amazing range of dishes from the lunch tasting menu. Our memorable meal ended with my new favourite dish for dessert, the Coconut Noodles. Coconut is one of my favourite foods, so I loved this exciting taste of the smoked coconut noodles with palm sugar sabayon, lemon basil seed and dried pineapple. Very refreshing and coconutty.

Paste Gaysorn Village (3rd floor)
Where: 999 Phloen Chit Road Level 3 Lumphini, Pathum Wan, Bangkok 10330, Thailand
Open: 7 days Lunch Monday – Sunday 12.00 pm – 2:00 pm, and Dinner Monday – Sunday 6:300 pm – 11:00 pm

Enjoy the view from a Rooftop bar
Bangkok is known to have many rooftop bars! We visited the Park Society Rooftop – SO Sofitel on Sathorn and admired its inspiring views of Lumpini Park. We enjoyed a sunset cocktail on the 29th floor terrace.

Open: daily 6:00pm – 10:30pm
Where: 29th floor overlooking 60 Lumpini Park & City View
2 N Sathon Rd, Khwaeng Bang Rak, Khet Bang Rak, Krung Thep Maha Nakhon 10500, Thailand
Take a Tuk Tuk night tour
If you're feeling adventurous, go for a night tuk tuk tour. We were able to experience the city light up in a unique way at night. We passed by the Golden Mount, Sanam Luang, and The Grand Palace, Giant Swing (Sao Ching Cha). The tuk tuks we went on was electric tuk tuks which are more environmentally friendly and comfier to ride, different to the traditional tuk tuk's that are bumpier and crazier to ride among the lights and car fumes.
Where to stay in Bangkok

There are many hotels in Bangkok to choose from. We stayed in the heart of the city at So/Sofitel Bangkok designed by Christian Lacrqoix. The hotel has unique designs with five different room themes, one of each element; includes water, earth, wood, metal and fire. I stayed in the signature room, earth and wood. On the 10th floor, there is a 32m Infinity pool with amazing views. In the morning, we started with breakfast at Red Oven. It's one of the best buffet breakfasts I've had, with an array of options with different food stations – Thai, Japanese, noodles, egg, fruit, cake and more!

Where: 2 N Sathon Rd, Khwaeng Bang Rak, Khet Bang Rak, Krung Thep Maha Nakhon 10500, Thailand

---
Have a great time in Bangkok, Thailand!
There's so much to see and do in Bangkok, I always love exploring temples and palaces. And of course the amazing food! What's your favourite thing to do in Bangkok?
Looking for the best beaches in Thailand? Check out the Best Things to do in Trat, Thailand here